Los posteadores más activos del mes

Dasher
:-
Dasher is a chess playing software. Play chess online against thousands of players on the Internet Chess Club, or play against your computer. Several levels and personalities of play, from beginner to grand master.
http://www.chessclub.com/helpcenter/interface/Dasher.html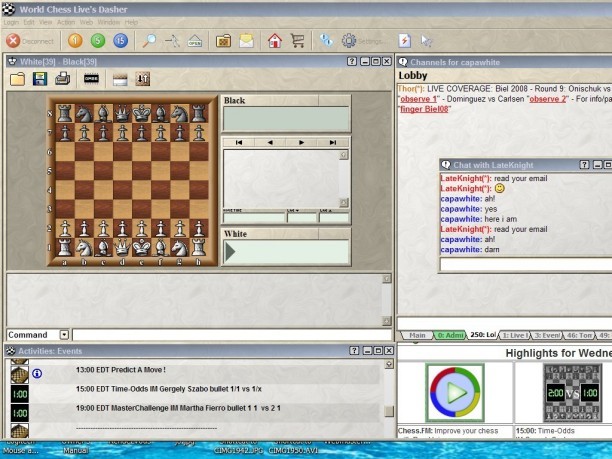 nikisharma

Destacado!




Mensajes : 2114
Reputación : 109



Dasher 1.5.4

Download:
http://www.chessclub.com/bits/interface/Dasher_154_installer.exe

Download Dasher in other languages:
http://www.chessclub.com/helpcenter/interface/Dasher.html#translations

Changes in this version:

- Added support for multiple UI skins. (Window --> Skins)
- Added a new support tool, the Network Status Dialog. It allows for sending traceroute and ping reports to an ICC server to help the support team track down connection problems. (HELP --> Network Status)
- Added support for the DGT chess boards via DGT's own DLL. It allows for playing on DGT chess boards and showing clock values on the DGT XL clock in mode 23. It requires DGT's DLL being installed and working properly. (Edit --> Settings --> Playing 2)
- Fixed a bug caused the board to flip without any reason after making the first move.
- Fixed showing of the Login dialog on clicking the "Play Online" button on Windows 7.
- Fixed bugs that occasionally caused some of the settings to reset on program upgrades and in other cases.
- Fixed problem caused corruption of PGN files written out by Dasher 1.5.3 in some cases.
- Fixed saving of comments (move annotations) into PGN files.
- Fixed problem that caused the analysis engine to stop working if the user managed to click faster than the UI could deal with.
- Fixed showing of user names beginning with letter "C" in the My Chats menu.
- Fixed problem that prevented preserving and removing of quick commands.
- Fixed crash on low memory conditions when the user had many friends (notified users) logged in at the same time.
- Fixed a bug that caused the "Rematch" button not to appear in examine mode with "set examine on".
- Fixed playing of "has arrived" sound samples inconsistent with the arrival messages displayed. Now either both the message is displayed and the sound sample is played or none of them. It was not the case for the titled users before.
- The login process has been modified to prevent logging into the backup server (queen) unintentionally. Users still have the ability to log in to the backup server explicitly, while the selection of the anti-firewall settings is still automatic for convenience.
- Updated channel list to include "United States Chess League" for channel 129.
- Prevented showing of unnecessary error messages on saving examined games to the user's game library. (For example: "#1324247700" does not match any player's name exactly.)

If you like this posting please reply "thanks"
Thanks for viewing my post
Regards
NikiSharma

nikisharma

Destacado!




Mensajes : 2114
Reputación : 109



Temas similares
---
Permisos de este foro:
No puedes
responder a temas en este foro.